Welcome to the Wrap and Roll Café
In business since 1998, the Wrap & Roll Café offers multi-cultural wraps, bowls, gyros, salads, and burritos. Home of the "Fatty Burrito", we offer vegetarian foods and homemade ice-cream sandwiches "Yeti Bites".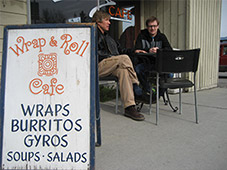 Voted "Best Dinner on a Budget" by Whitefish locals, the Wrap & Roll is a place where you can get great food and friendly service for a great value.